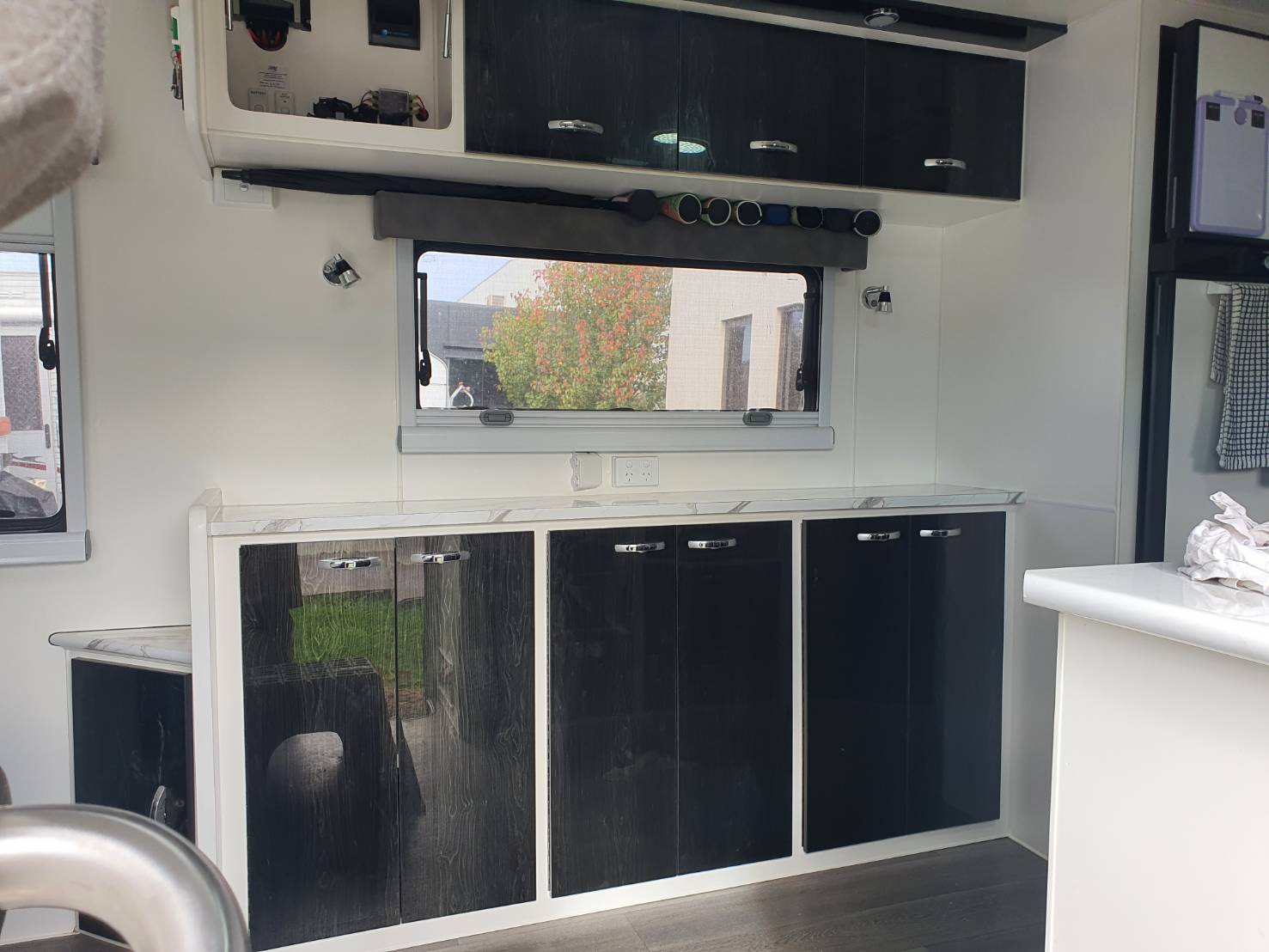 Some people like to buy brand new things, caravans and RVs included. Others, however, prefer the idea (and/or the financial equation) of getting something second hand and giving it new life.
The great thing about renovating a caravan is you can have direct input into the layout and overall design of your caravan so that it suits your vision of what a caravan should be.
Because the Ace Caravan Repairs team has been renovating and restoring old caravans for many years, we know how to bring your ideas to life (and contribute to them) as well as how to keep our work within your budget.
Check out this caravan renovation
Shirley bought a caravan and wanted to upgrade the cabinetry. Luck for Shirly she came to the right place: we love putting in schmick new cabinetry!
As you can see, our team does cabinetry and interior finishing as well as anyone, with quality workmanship that anyone would be happy with.
And Shirley was … in fact, she was over the moon with the cabinetry redesign and upgrade from the Ace Caravan Repairs experts!
Here's the review she gave us:
"The renovations done in the van were of extremely good quality and we are more than thrilled with the end result. Thanks, team, wouldn't hesitate to recommend your services!"
Try us for yourself
We know the thought of renovating, refurnishing, or restoring an older caravan can be intimidating or overwhelming. Where to start, how much to do, how to keep it affordable, but still getting what you really want is all a balancing act.
You can rest assured that we'll work cooperatively with you to bring your caravan renovation project to fruition.
A little imagination, coupled with the expertise of our team, can deliver a quality caravan with all the 'mod cons' at a fraction of the cost of a new van.
What could you do?
We have the expertise and knowledge to renovate or modify your caravan any way you like.
Even if you're only looking for relatively simple renovations – adding a double bed, refurbishing upholstery, replacing tired old doors and the like – we can get those things done very quickly.
If you're thinking about doing something more substantial – changing the layout to make better use of existing space, or modernising the kitchen, for example – our team can help bring your caravan renovations ideas to life from design to production.
And we'll always work to your budget. Making it excellent and affordable is the whole point!
Check out more of our work in the gallery on our Caravan Renovations and Restorations page.