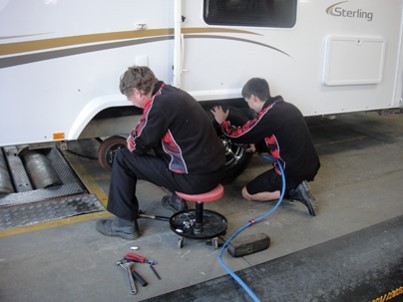 You service your car regularly. It's just as important to do the same for your caravan – maybe even more so.
No matter how much or how little you use your 'van, you're taking a huge and unnecessary risk if you don't get it serviced every 10,000kms, or annually, and particularly before taking it out on the road after it's been idle for a while.
What's the risk?
As we outline in How often should I service my caravan or motorhome?, there are three major risks involved in taking a poorly maintained caravan out on the road:
1/ You'll end up needing major and expensive repairs;
2/ Your holiday will be ruined;
3/ You'll be involved in an accident (and, god forbid, it could be deadly).
We don't think any of those is a risk worth taking – let alone all three!
What's involved in a regular service?
The Ace Caravan Repairs team follows a comprehensive caravan servicing checklist to make sure your caravan is safe and ready to be taken on the road.
We'll inspect your vehicle's bearings, brakes, suspension, couplings, tyres, wheels, springs and bushes, lights, jockey wheel and jacks, chassis, and outrigger for any signs of damage or wear and tear.
We'll make sure your vehicle is not only in good condition but, wherever necessary, replace anything that is worn or damaged with a genuine quality replacement part.
How much does it cost to service a caravan?
The cost of a regular maintenance service starts from $220 for a single-axle caravan and from $330 for a double-axle vehicle.
This involves a thorough check of bearings, brakes, gas and electrical, as well as careful inspection of the coupling, chassis, windows, and doors, and looking for any signs of damp.
Our experienced team of specialist caravan mechanics are committed to keeping your vehicle well maintained so you can enjoy it to the fullest.
Check out our FAQs for more answers to your questions and get in contact when you're ready to book in.