Regular caravan servicing is important
Just as having your car serviced regularly keeps it performing at its best – and prevents any small issues turning into big ones – regular servicing of caravans is vital to your ongoing, trouble-free enjoyment of your recreational vehicle.
Keep in mind that you're towing a heavy load that needs to run smoothly so without regular and appropriate servicing you're not only risking costly maintenance or repairs on your caravan and car, but also taking a massive risk with your and other road users' safety.
Besides the safety issue, there's a danger that your warranty could be voided if you don't keep up a regular servicing program.
At Ace Caravan Repairs, we have an area within our workshop specifically devoted to caravan servicing, providing the optimal conditions to service your caravan to the highest standards.
As a matter of course, your caravan should be serviced before any long trip and at regular intervals. Every 10,000 kilometres is a good measure to schedule your caravan servicing.
If you've purchased a second-hand caravan, it's best to book it in for a service before using it. Also, ask us about our comprehensive cleaning and detailing.
FULL SERVICE FROM ONLY $198.00
Ace Caravan Repairs' extensive check and service includes a full Inspection and test of the following items: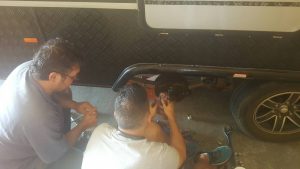 Exterior Bodywork and Interior
Damp test
Exterior sealant
Window stays and catches
Door locks and hinges
Check for floor delamination
Exterior lockers, locks and hinges
Roof lights and their operation
Grab handles for security
Cupboard stays, catches and hinges
Interior doors, bedLockers and hinges
Blinds and flyscreens
Water System
Water pump operation
Operation of all taps and shower head
Toilet blade and flush operation
Pressure switch set-up and operation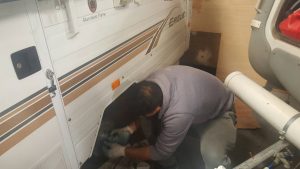 System drain plugs
Gas Supply and Appliances
Leak test
Fridge operation
Cooking appliances
Electrical System
Operation of RCD and MCB's
Test 13amp sockets
Test 12V sockets
Space heater and water heater operation and check
Check wiring circuits and fuses
Operation of interior lights
240V operation of fridge
240V operation of space heater and water heater
Check gas hose and replace if necessary
Check blown air heating system
Check road lights, reflectors and awning light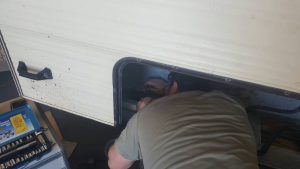 Check 12N & 12S plugs
Chassis and Running Gear
Check and lubricate jockey wheel
Check breakaway cable
Check handbrake operation
Lubricate overrun piston
Check coupling head
Check tyres and tyre pressures
Check operation and grease corner steadies
Remove brake hubs, clean, reassemble and adjust
Re-torque wheel nuts/studs
Part services / habitation checks will involve the relevant sections above