FREE TOWING
Get free towing in Melbourne for any insurance claim + $200 off your excess
Melbourne's Most Trusted Caravan Repairs
Ace Caravan Repairs Excel in Quality & Value
Insurance Repairs | Servicing | Repairs | Renovations
Insurance Repairs
Our certified technicians will get your caravan in excellent condition in no time.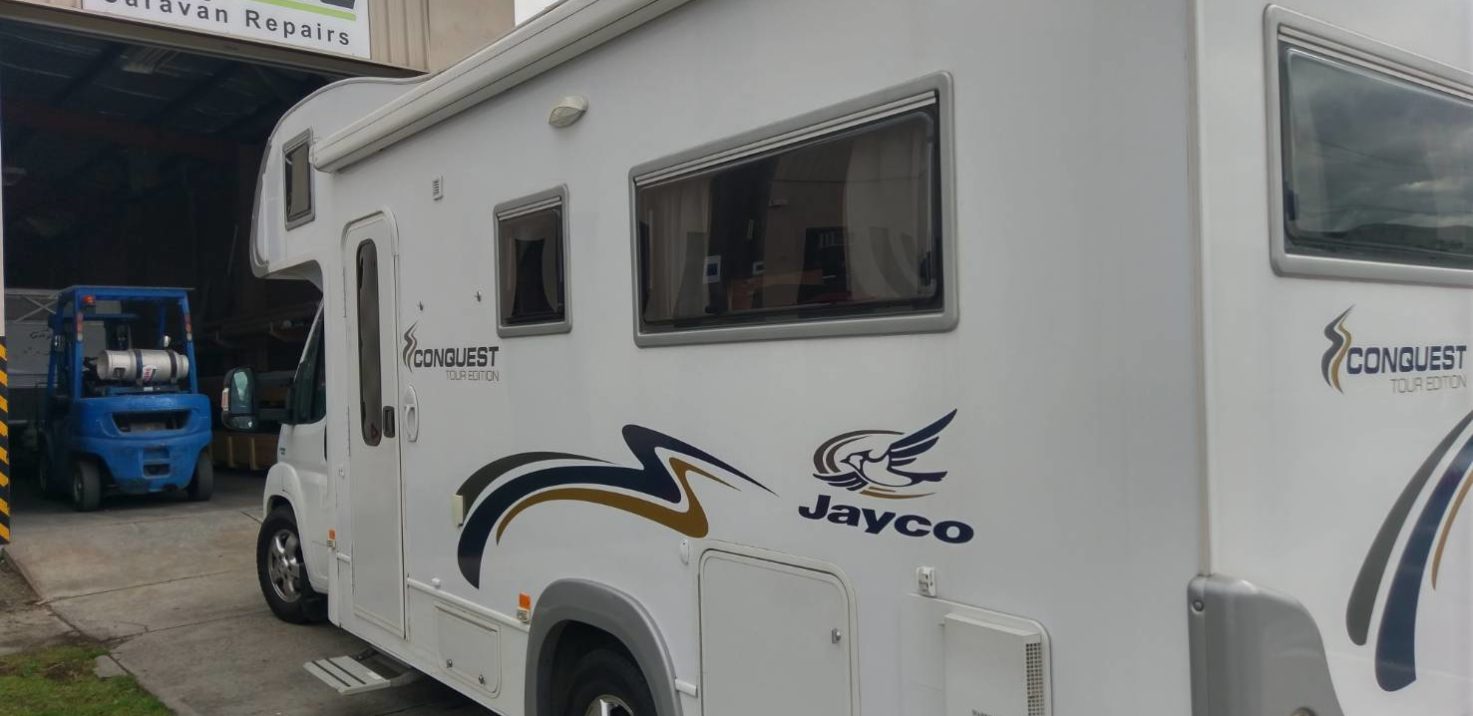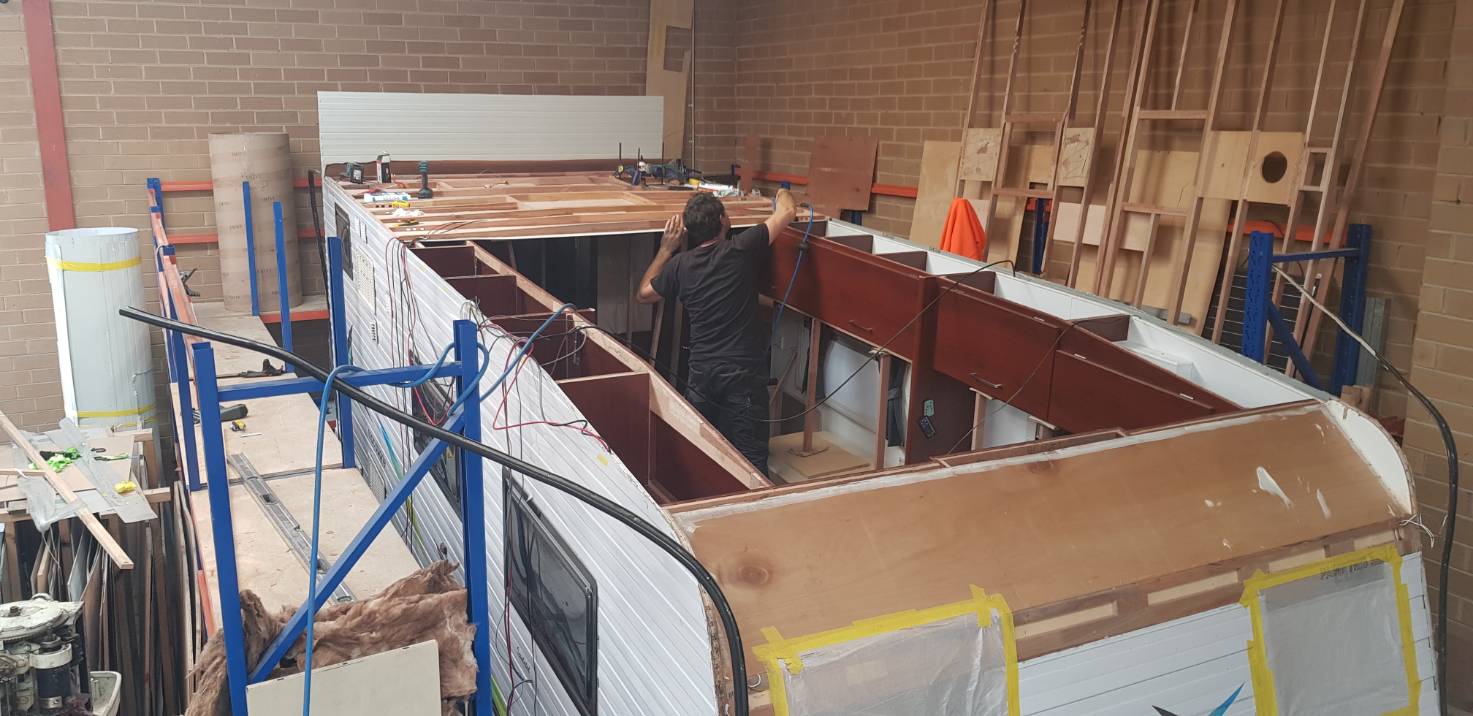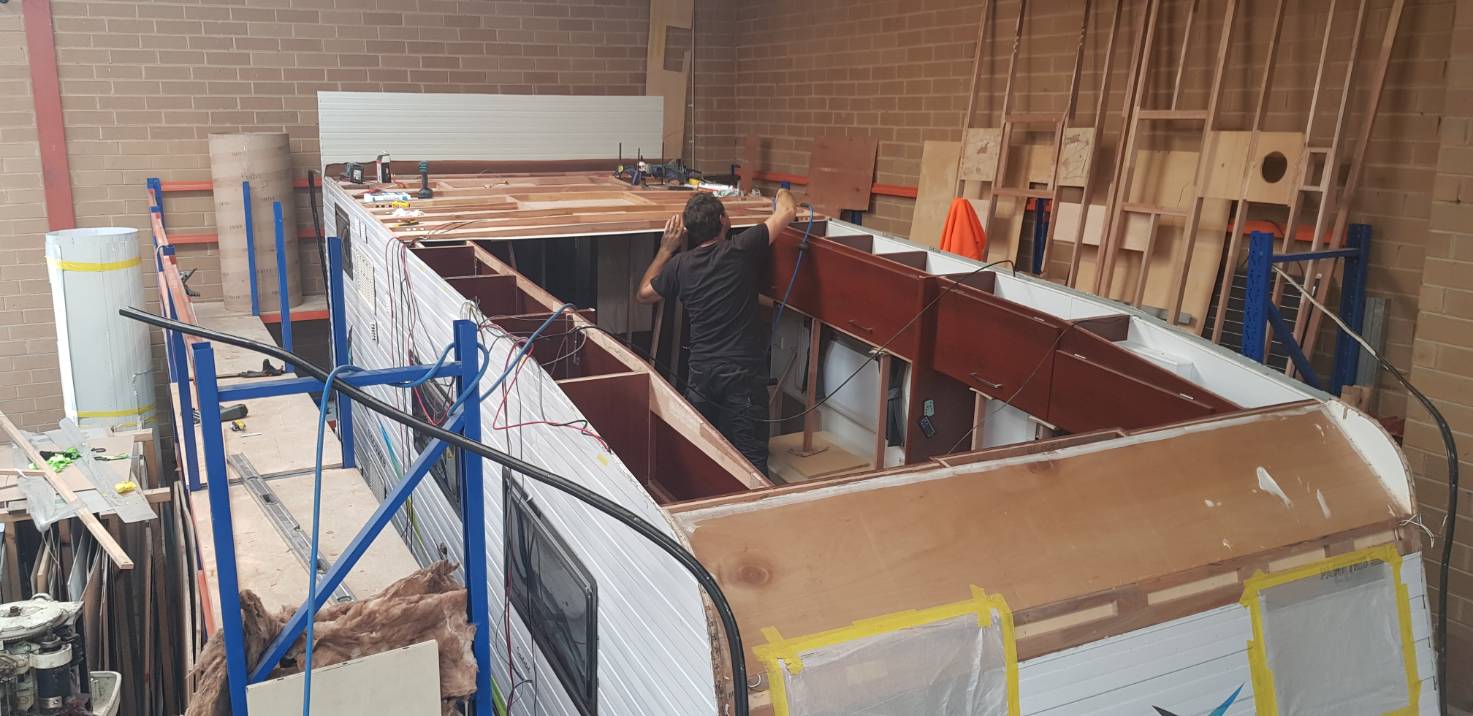 Ace Caravan Repairs has a long list of satisfied customers that have established us as Melbourne's most trusted name in caravan and camper body repairs. We take great pride in consistently providing top-quality service across the Melbourne city and suburbs and into Victoria.
Brad G

I could not be happier with the service and workmanship the guys from Ace Caravan Repairs provided us when working on our Jayco Pop-up camper. It was in dire need of attention and the amount of work and detail the guys put into it showed when I came to pick it up 24 hrs later...I almost didn't recognise it. Just a fantastic job carried out by good people and I can not recommend them highly enough. 10/10.

Peter Fraser

Great service from Michael and the team after hail damage to the roof of a van.
Some lifting struts made such a difference in putting it up especially as one gets older, and shorter maybe.
Excellent service and results from Ace Caravan Repairs.

Maria Belzunce

Found Ace Caravan Repairs easy to deal with.
I appreciated their good old fashioned service.
They were prompt, reliable and professional. Highly recommend.

Chris Stewart

Fantastic service from these guys. Wouldn't hesitate to get more work done by then. Thank you.

Lucinda G.

Michael and the team were AMAZING. The boyz are preserving history .. vintage van by vintage van.
Thank you so much for giving my 1962 Hawthorne caravan "Bertie" an A1 makeover.
Immaculate, attention to detail repairs and paint job!!! Highly recommend ACE CARAVAN REPAIRS.

Elizabeth Noden

Ace Caravan repairs in Cheltenham are in fact 'Ace' !!
We were so impressed with the team there I would thoroughly recommend to any fellow van owner - from the get go they were super helpful and did everything to accommodate our needs and the quality and very reasonable pricing ensures we will definitely have us as return customers Very refreshing to experience good old quality Customer Service...Well done Ace 👍

Stuart

I recently had some extensive modifications done to the interior of my 2001 Compass (Roadstar) 20ft Caravan. My wife and I were extremely impressed withe the superb quality and craftsmanship provided by Ace Caravan Repairs. The new cabinet work matched the existing with such accuracy so as to appear totally original. Their attention to detail was impressive and we are very glad we engaged their services to perform this work. I strongly recommend this Team to anybody wishing to engage a caravan repairer.

As we intend to keep our 20 year old caravan for sometime yet, I know that any future work of this nature will be taken to Michael and the Team at Ace to perform their magic.

Kind Regards
Stuart H.

Olga B.

Great service by a great team!
Was recommended Ace Caravan Repairs by a colleague and couldn't be happier.
Michael and the boys are pros at what they do.
Keep up the great work!

Allen Peters

Just got our van back. I am a vet with PTSD. Ace were great.
They dealt with my insurance co., saved me a lot of grief and kept me informed all the way.
Nothing too much trouble. Cannot recommend them enough. All repairs well done.

Greg Pritchard (Gregp)

David and Michael repaired our caravan in amazingly fast time. The work is expert and it is not possible to see where the damage had been. We are very impressed with the professionalism, care and dedication shown by this business. Clearly, they aim for excellence and it is easy to see why they have earned their many five star reviews. We will certainly direct all our business for caravan service and repairs to them from now on. We have no hesitation in giving this business the highest recommendation. We couldn't be more pleased with the outcome and the guys were really pleasant to deal with. Many thanks!

Stacy P.

Called in to see David at Ace Caravan Repairs yesterday. Needed urgent repairs on my Fiama awning on my motorhome.
David was more than accommodating with the help of Dan. Excellent service by them both.
Repairs done in no time. Very friendly. Highly recommend ACE CARAVAN REPAIRS💗 Thank you😊

Lorraine Doolan

5 stars to Michael and his team,.
I have twice used Ace Caravan Repairs and have been extremely pleased with their excellent standard of workmanship.
I will recommend Ace to my friends always.

Karen L.

Had our caravan serviced and few things fixed.
Great work. Told us the price up front and very professional.
Would recommend them to all my friends

Rod H.

These fellows are very meticulous and knowledgeable across the RV range.
Had to get some urgent repairs done to my Teardrop and these guys got me safely back on the road.
Thank you and well done gents.

Peter LAWRENCE

A most professional outfit and the help and advice was first class. They know their different trades very well and the work quality and finish is excellent. As well, they're all good guys and pride themselves on a job well done and well delivered.

Sally Hankin

I was very impressed with the knowledge and ways of fixing the leaking problem with my van.
They did an excellent job and their service was thorough and all the extra items checked and reported on.
The phone contact was excellent. I would fully recommend this company for caravan repairs and service.
A pleasure to deal with.

Bagpuss

Friendly professional service. Asked for silicon seal check inside and outside of my newly bought motorhome, plus adding a bike rack. All completed to a high standard and finish. Discussed options of a bike rack type and position. I was fully involved and felt listened to. I am very happy with the outcome. I would highly recommend this company.

Russell Whyte

Thanks Michael and the boys for an excellent job on repairing the window on the motorhome so fast.
I would recommend Ace Caravan Repairs to anyone who wants a professional job done. Thanks again.
10 out of 10 for service .

Shirley Holland

The guys were all friendly and helpful.
The renovations done in the van were of extremely good quality and we are more than thrilled with the end result.
Thanks, team, wouldn't hesitate to recommend your services!

Nicole Holmes

I want to write pages and pages of gushing praise for these guys but I also want people to read this review - so I will try to keep it short. Michael and his team provided five star service from beginning to end. Excellent price, excellent service, outstanding quality. So nice to find a company in this industry that we can fully trust! We will be coming back to Ace for everything we need for our caravan. Thank you guys for everything!!!
Ace Caravan Repairs is not only the best in caravan servicing and maintenance but its dedicated expert staff are recognised as the best in the business and are the preferred caravan insurance repairer in Melbourne for virtually all insurance companies.
We are registered repairers with all insurance companies.
NO JOB IS TOO BIG OR SMALL
This Winnebago suffered some severe damage but, as our before and after shots show, our team was up to the job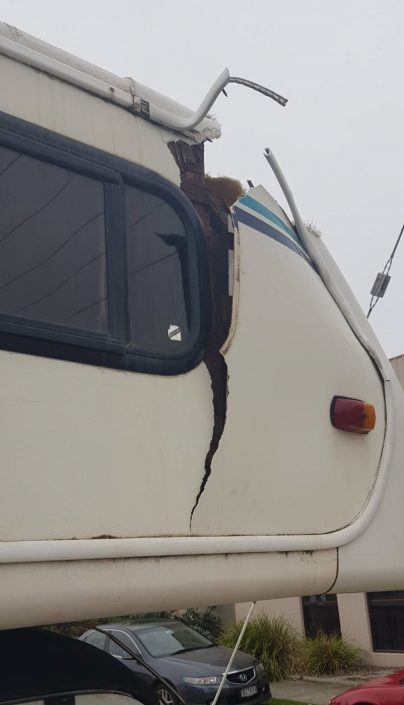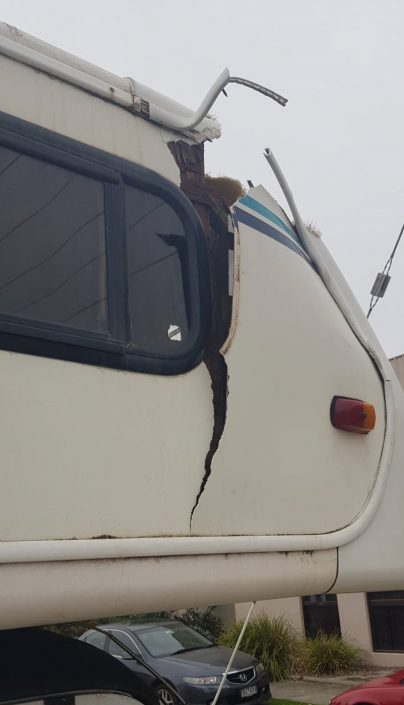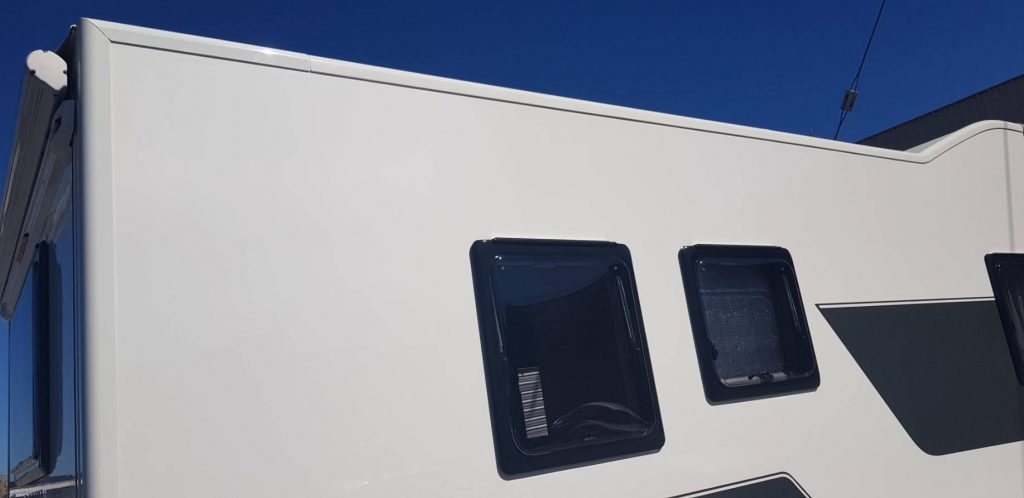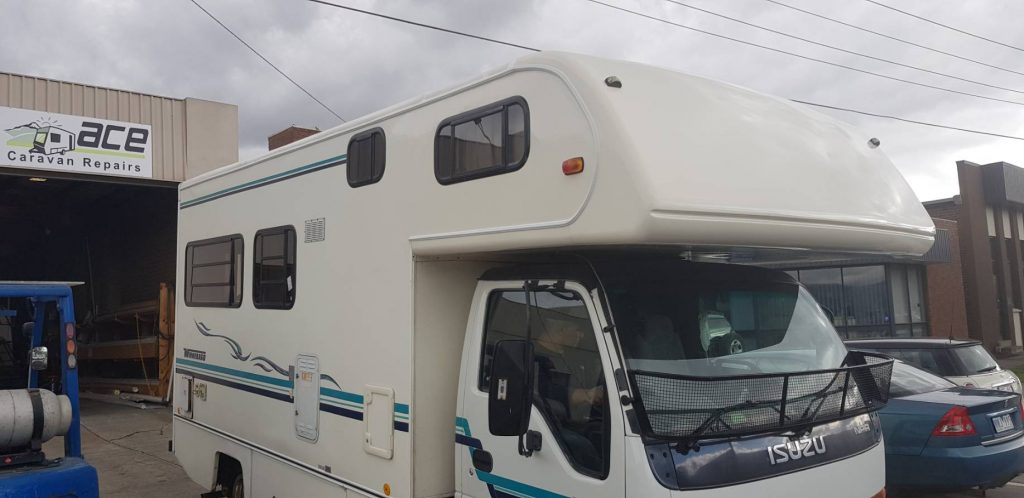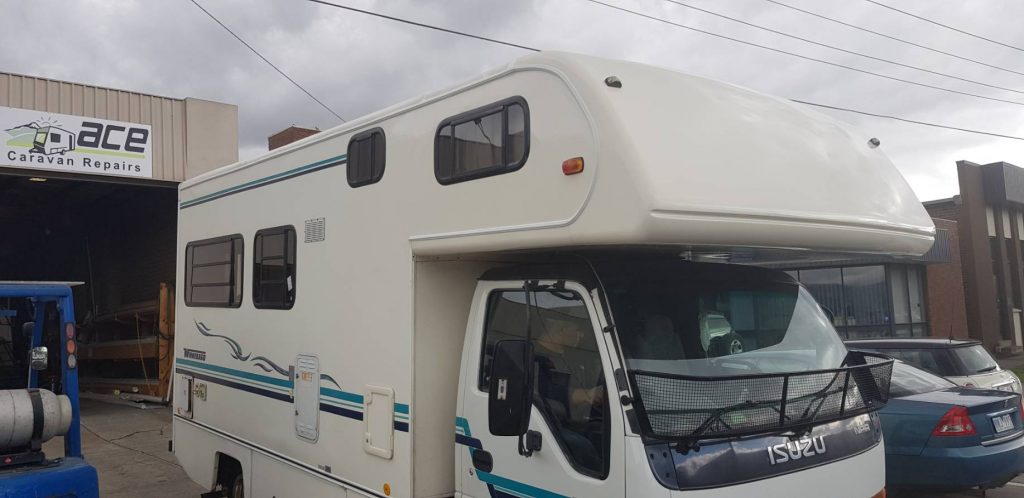 Some more examples of our repair work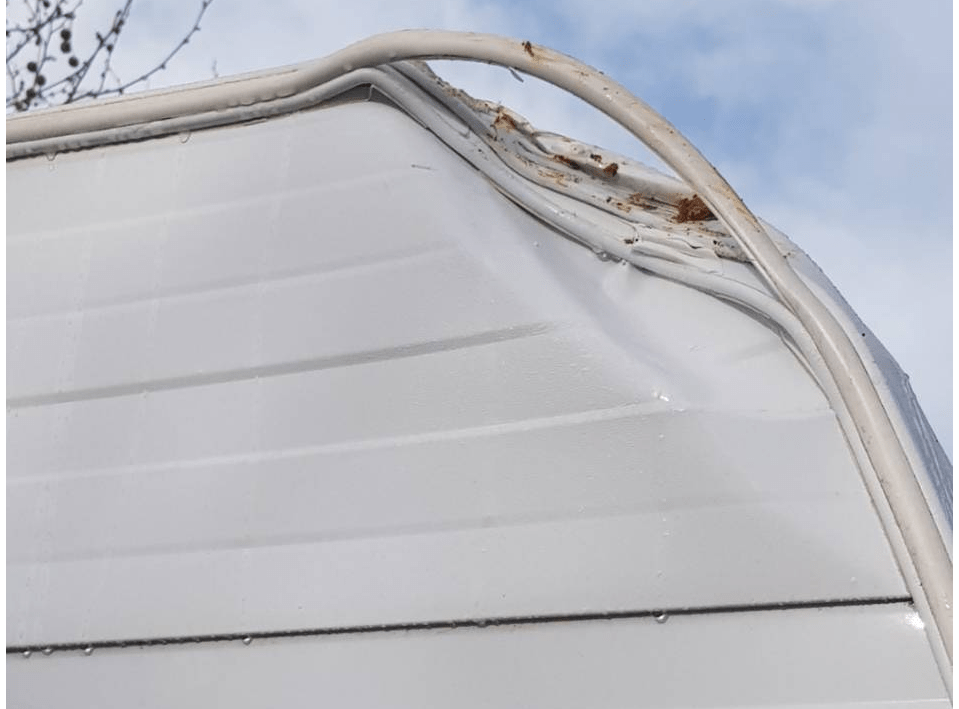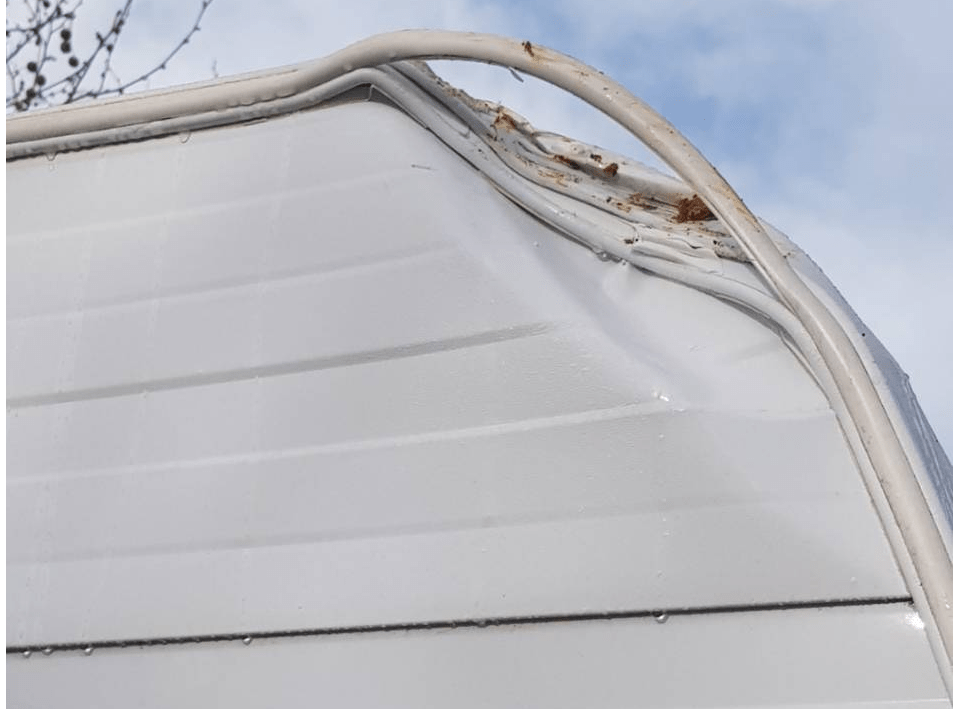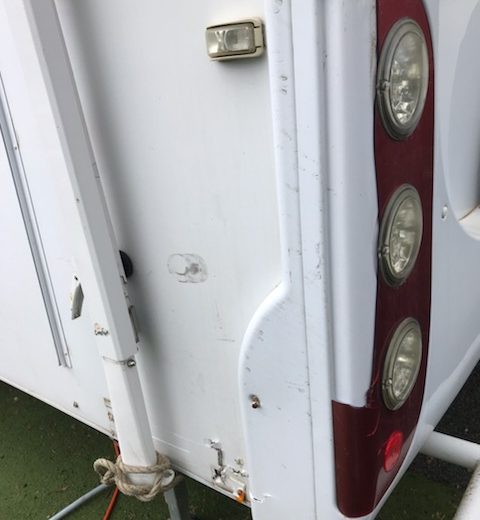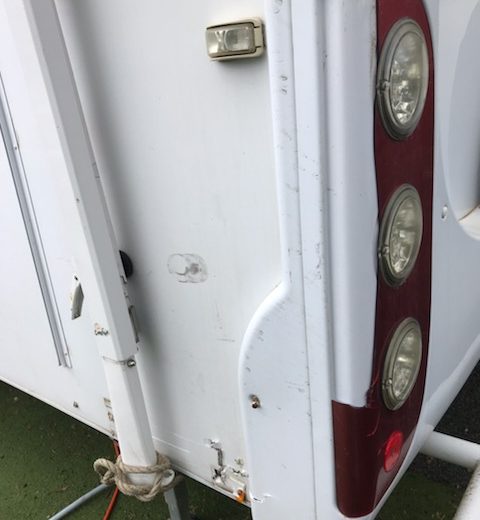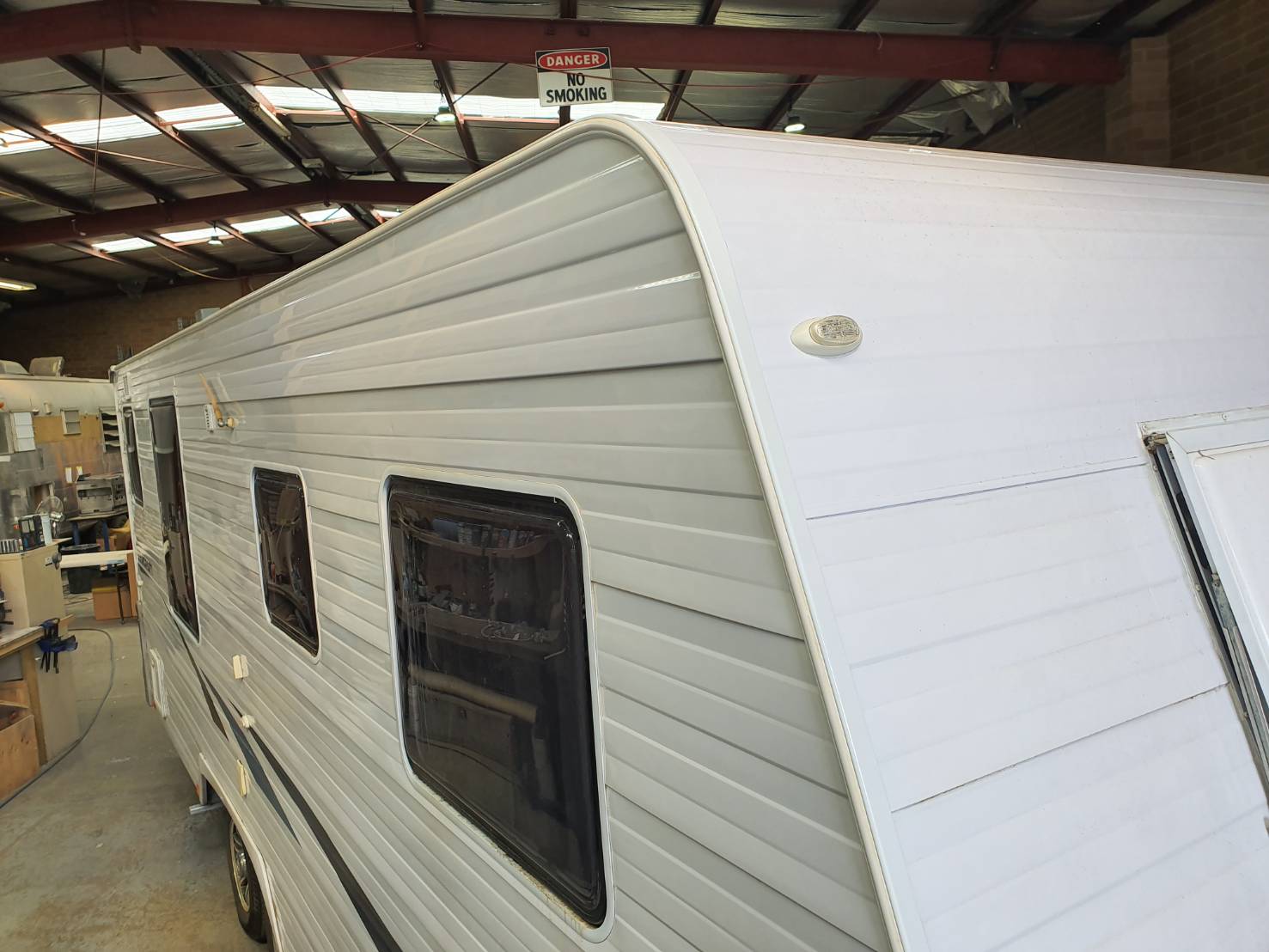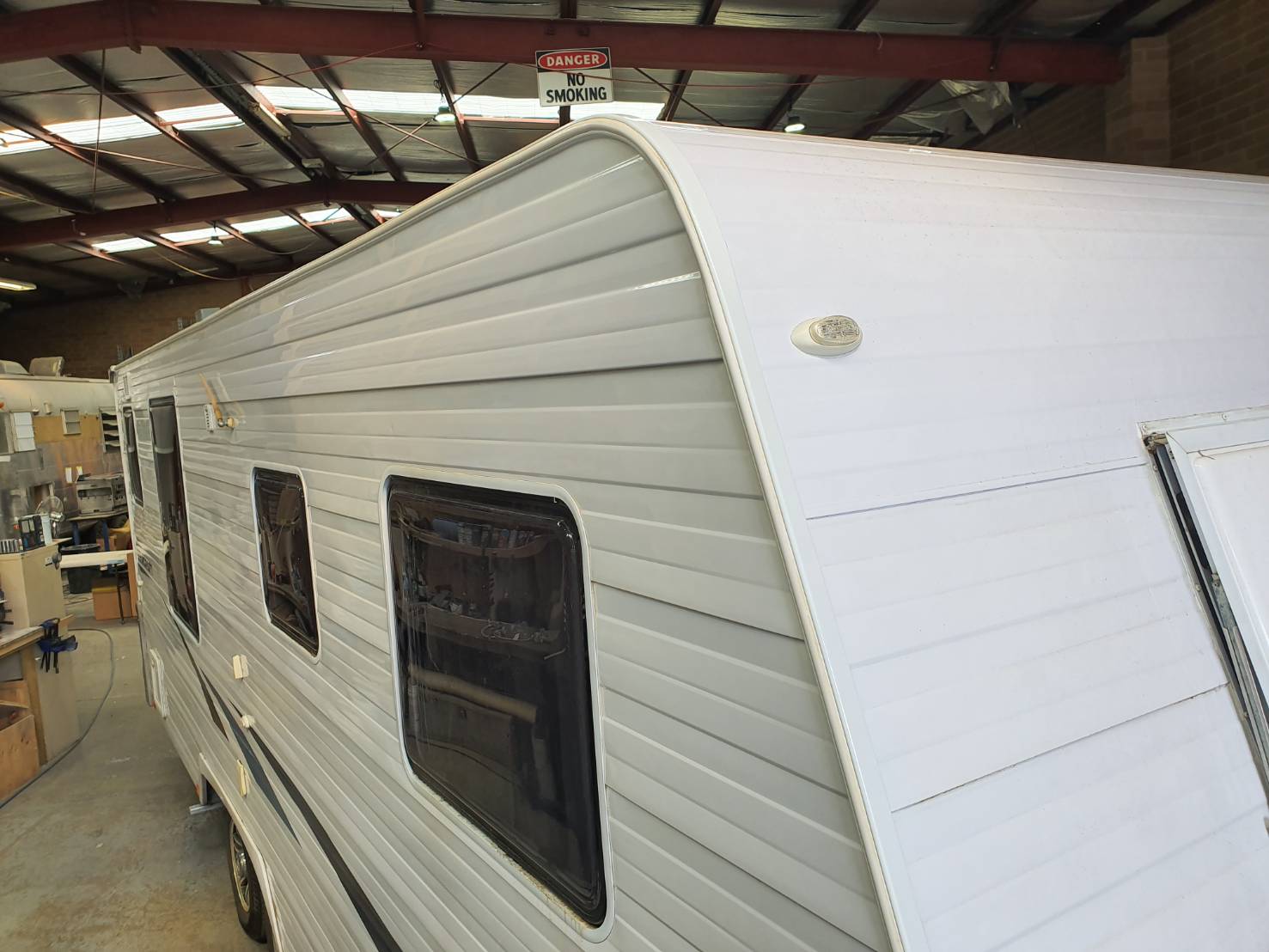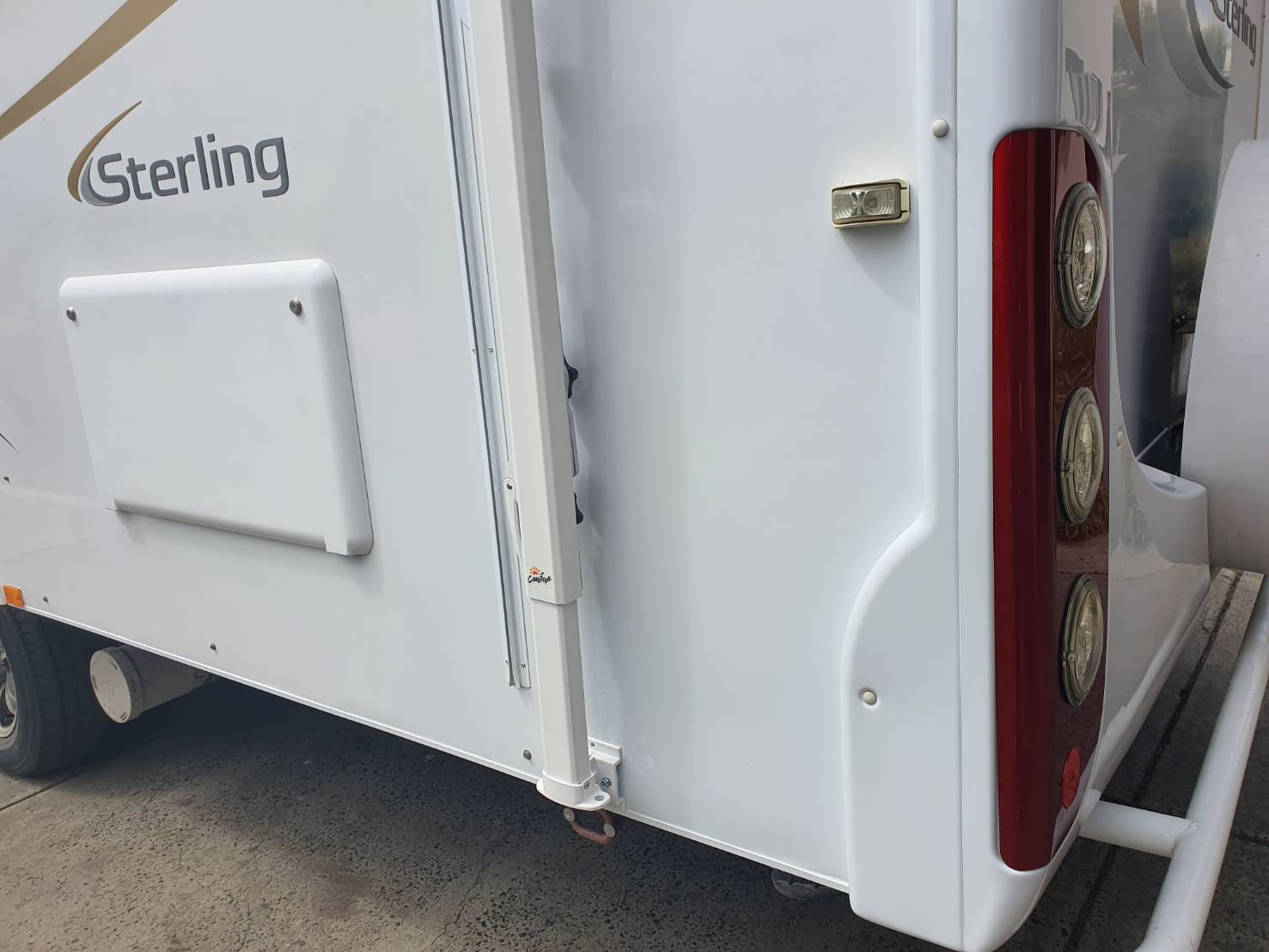 Get More Value for Money When Using Ace Caravan Repairs
We'll even cover $200 of your excess and provide free towing anywhere in the Melbourne metro area for any insurance claim.
The award-winning team at Ace Caravan Repairs can take care of any caravan, campervan or RV issue, large or small, and we also offer great value comprehensive services at our Cheltenham headquarters – or wherever you are. Our qualified technicians will be able to ensure your mobile home, caravan or RV  is running as smoothly as possible.
Our company has provided guaranteed high-quality repairs and renovations to the Melbourne community for over 40 years. We've always been a family-run business, priding ourselves on the high level of professionalism that has earned us several industry awards as well as the status as the preferred caravan repairer for every leading insurance company.
From Caravan roof repairs and caravan panel repairs right through to essential safety servicing and repairs for lights, brakes and electrical wiring, our team can get the job professionally and efficiently for you.
Let us repair, replace or realign any part of your vehicle that is no longer functioning smoothly.
We've got you covered for all your caravan servicing and repairs, including:
| | |
| --- | --- |
| Essentials | Frames |
| Brakes | Roof Hatches |
| Axles | Doors |
| Couplings | Windows |
| | |
| --- | --- |
| Appliances | Systems |
| Fridges | Lights |
| Stoves | Gas |
| Microwaves | Toilets |
We provide a free quote for every task before we start any work, so you won't be stuck with any unwelcome surprises along the way.
Our work also comes with a quality guarantee as well as a 12-month warranty.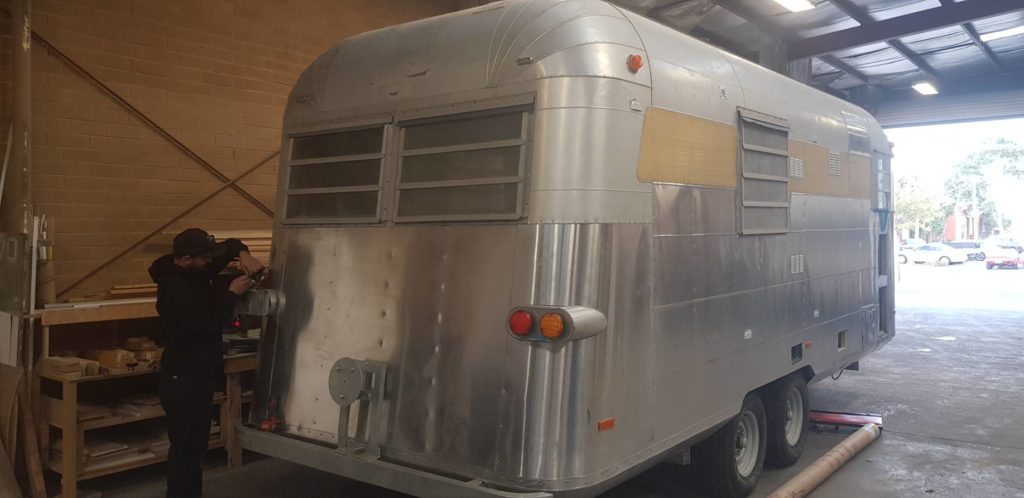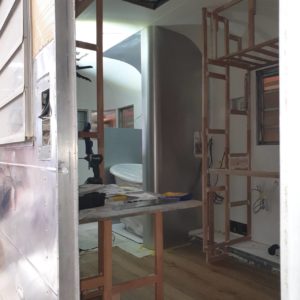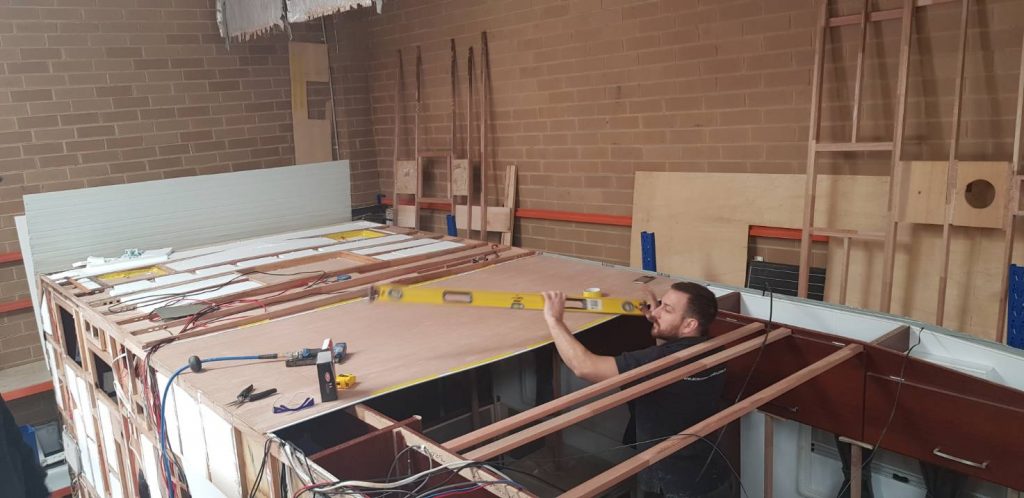 We recommend regular comprehensive servicing of all vehicles
Keep your caravan, campervan or RV in tip-top condition by seeing us regularly for a full treatment, which includes dozens of tests and checks all around the vehicle. This complete servicing process will take care of all the most common adjustments and repairs that need to be made.
We can also perform individual safety checks on gas and electrical systems to ensure that your vehicle is safe to drive and operate.
If you'd like a thorough cleaning to keep your caravan in tip-top shape, we're happy to handle that for you as well. We do the job right the first time, eliminating the need for return visits.
No problem is too large or too small for the caravan, RV and camper repair team at Ace.
And remember, if you can't get your vehicle to our repair and service centre in Cheltenham, we can come to you, whether you're at home, at a campground, a storage facility, or anywhere else around the greater Melbourne area.
Call (03) 8524 1076 or visit our service centre at 33 Taunton Drive, Cheltenham.
AWNING REPLACEMENT
Immediate awning replacement service, including parts and labour and fast delivery or on-site work.
ONE-STOP CARAVAN SERVICES
When you bring your caravan to ACE, you can rest assured that we'll get you out and about in no time. Our dedicated team of experienced and knowledgeable staff know how to prolong the life of your vehicle so you can enjoy more time on the road.
ROOF LEAKS
Whether it be roof sealing or a complete roof replacement, ACE will repair your problem and guarantee their work
CERTIFIED INSURANCE REPAIRER
If you're making an insurance claim you can rest assured that we have the stamp of approval from most insurance companies & all our work is guaranteed with warranty.
Our skilled  and experienced repairers will make sure that you're in and out of our repair centre in record time.
Our meticulous approach means it's always fully repaired first time so you don't need to come back again.